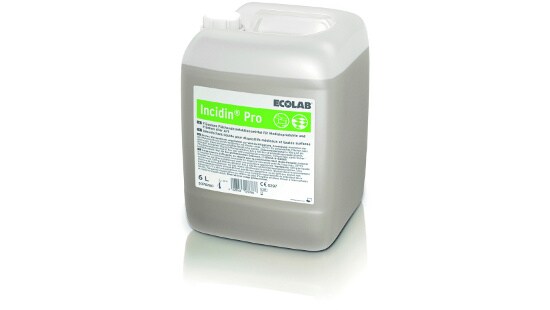 Incidin™ Pro
The aldhehyde-free concentrate for surfaces
Because of its SMART-BALANCED formulation, Incidin™ Pro brings a new standard to surface cleaning and disinfection.
Product Details
Incidin™ Pro sets a new standard for professional cleaning and the disinfection of surfaces with its SMART-BALANCED formula.
Your Pro for Speed
Your Pro for Effectiveness
Your Pro for Compatibility
| Our performance | Your advantage |
| --- | --- |
| Broad spectrum of effectiveness – tested in accordance with the latest EN standards | Effective disinfection and cleaning |
| Short contact times at low application concentrations | Time and money savings |
| Excellent cleaning performance | Cleaner surfaces with higher material compatibility |
| Excellent tolerability | Compatible with metals, linoleum, PVC, ceramics, rubber and plastics |
APPLICATION AREA
Incidin Pro is a liquid concentrate suitable for cleaning and disinfection of medical devices and all kind of surfaces in healthcare settings.

INSTRUCTIONS FOR USE
Dilute concentrate with water (max 30ºC) to the desired concentration. Wet entire surface with a sufficient amount of solution and leave to dry.
To achieve e.g. a 0.5% v/v solution prepare a 1:200 dilution with suitable water e.g. 5ml of Incidin Pro is added to 995ml of drinking water quality, giving a total volume of 1 litre.
Use (after commencement)
Shelf life

 

in container1

 

until the printed expiration date

 

in the container on the dispenser

 

until the printed expiration date

 

in the container with a dispensing aid

 

until the printed expiration date

 

As a prepared application solution2

 

up to 14 days

 

as a prepared application solution in combination with Incidin™ Premium Wipes in the Incidin™ Dry Wipes Dispenser3

 

up to 28 days
1
Please note the following to ensure the correct storage of environmental hygiene and instrument disinfectants: The original containers (canisters, buckets or bottles) with the disinfectant concentrate (or powder) should be stored at temperatures below 25°C and kept dry and clean. A brief period below or above the given storage temperature (e.g. during transport) will not diminish the effectiveness.
The containers are to be sealed tightly after each use. Please also take care that the concentrate remaining in the container is not contaminated when preparing the application solution.
2
Assuming that the application solution that is produced is not contaminated by organic material, it is to be stored in a clean, closed container or a covered instrument basin.
Please take note of the corresponding marking on the containers in which the disinfectant solutions are kept, e.g. contents, concentration, date, shelf life and batch number. Used and organically contaminated solutions are to be changed at least once per workday as per RKI recommendation./span>
3
A stability time of up to four weeks can be confirmed for the previous products and application concentrations of the same products, provided they are used in accordance with our instructions for use and recommendations.
Comment: Wipes that have been soaked in the disinfectant solution should not be used for any longer period of time. Frequent opening and closing of the container or unintentionally leaving the wipe dispenser open may lead to the evaporation of volatile substances, resulting in a change in the agent concentration.
For more information please refer to the product label/SDS.
Surface disinfection for medical products


0297
---
Use biocides with caution. Always read the label and product information before use.
Check Other Products for Your Surfaces Cleaning and Disinfection
Please see below related offerings: